Campsites near Mevagissey are generally exceptional and I've hand picked the best for you here. Wild camping and sea view camping near Mevagissey are excellent choices for those seeking a seaside or rural escape. Looking for inspiration on how to spend a week camping in Cornwall? Skip to the bottom for holiday tips.

Our Top Pick Camp Sites Near Mevagissey
Pleasant Streams Farm Campsite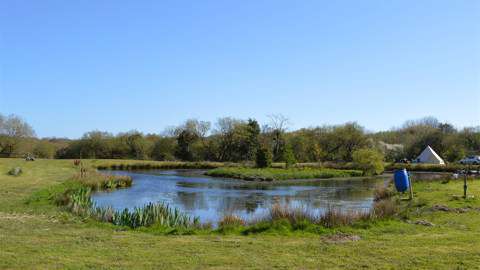 A rural and rustic campsite next to an old farm in a peaceful area. The facilities are basic, but are complete with tire swing and a little boat on the water. A great spot for connecting with nature and getting away from more commercial sites. It can be a little tricky to find, but in a campsite that's often a good thing. Facilities include a simple shower and toilet facilities in basic wooden huts. This is a 'back to nature' style campsite. Bring your own bucket for washing up and get well and truly away from it all. There aren't even set pitches, camp where you like!
Pentewan Sands

Pentewan Sands is situated just around the corner from Mevagissey, a campsite right on the waterfront. Pentewan sands has an indoor swimming pool, that's usually a pleasant temperate and has some small water slides attached, as well as a separate pool for swimming only. Pentewan campsite also has a Hubbox burger restaurant on the seaside. The nearest pub is the Ship Inn, which is right next to the old harbour, which has since become a bird sanctuary (not the kind that's covered in faeces where the birds beg to be fed). Pentewan campsite is great for bike riding in King's Wood and watersports. Pentewan sands is the most established and largest campsite around so is ideal for those with a preference for more facilities. There's a tennis court, childrens play area and on site water sports hire venue for sailing, water-skiing and more. It has two indoor heated swimming pools complete with small flumes and a jacuzzi.
Heligan Caravan and Camping park

This five-star campsite is great for nature lovers, as its right inside one of Cornwall's most popular green places – The Lost Gardens of Heligan. With sea views over the Mevagissey and the bay, this is a prime spot for its easy access to Mevagissey (on a lovely green footpath) as well as proximity to food and things to do. A wonderful, quiet spot for camping. Heligan has the advantage of access to Lobs Shop, which is a farm shop with high quality produce. You also have an onsite amenity block and launderette. Heligan is the sister site of Pentewan Sands and has discounted access to the indoor swimming pools just over the hill by car.
Seaview Gorran Haven Holiday Park

A small family-run holiday park with an indoor heated swimming pool. 40 static caravans all less than 6 years old and 46 level touring pitches. 2 miles from the coast. Cycle from the park to Pentewan beach, Heligan Gardens or Mevagissey. Ideally situated in Mid Cornwall, ideal for the southwest coast path, Eden Project and The Lost Gardens of Heligan. Facilities include a heated outdoor swimming pool, sun terrace with games around the pool, tennis and football areas and a play area.
The Meadows Campsite

Just around the corner from Mevagissey and with easy access to Heligan Gardens and Pentewan beach is this small, adult only (and dog-friendly campsite). Enjoy the wild-flower meadow and pick up a Mojito from the bar. The toilets are clean and warm and the site is spacious. This business is the pride of the owners and for good reason. Facilities include wifi, a small shop with local eggs, milk and icecream. They have a special wild camping option in a private wildflower meadow.
River Valley Holiday Park

Excellent freedom, clean and spacious with very good walks and access to St Austell. River Valley has a swimming pool and is close to Pentewan cycle trail, which meanders through King's Wood. River Valley has static caravans and other accommodation. River Valley facilities include a heated swimming pool, a zip wire and a library packed with books. We also have a fully accessible bathroom.
Which camping sites are near Mevagissey?
Pentewan sands
Heligan Caravan and camping park
Seaview Gorran Haven Holiday Park
Trelispen Caravan & Camping Park
The Meadows Campsite
Treveor Farm Campsite
Treveague Farm Campsite
Tregarton Park
Higher Kestle Farm Campsite
Pensagillas Park
Meadow Lakes
Pleasant Streams Farm Campsite
Penhayle Caravan & Camping
Which campsite is closest to Mevagissey?
Pentewan Sands is just two beaches along the coastline from Mevagissey and is by far the largest local campsite with the most infrastructure in place. It has a restaurant, two swimming pools and its own massive golden beach. Pentewan Sands has a Hubbox Restaurant on the beachfront and is excellent for people with limited mobility because the ground is flat. It's only a short drive (or steep coastal walk) to Mevagissey and is even closer to The Eden Project. The Lost Garden's of Heligan is nestled between Pentewan and Mevagissey and is a few minutes away. Pentewan however is not a place for those that prefer smaller campsites or privacy.
Why Go Camping in Cornwall?
Cornwall is one of the best places to camp in the UK. With so much exposure to the sea, Cornwall is an unusual bright place, even when the weather isn't that good. During a heatwave, Cornwall feels like the California of the UK. It's always a surprise after time away to come back down and see palm trees growing at the local train station – Cornwall has a microclimate that can sustain such species. There are areas of Cornwall that are technically sub-tropical, which is partly why Cornish gardens are considered special. Combine this with a sea temperature which is a whole 2 degrees Celsius warmer than the rest of the country and you're a fool not to be jumping behind the wheel and getting pitched up down here! Where else are you going to go? Scotland? Think of all the midges, the icy cold, the damp! Then you have to encounter the Scots! (nah, they're alright).
Cornwall actually has more tourism infrastructure than it needs, which is great for visitors. The Eden Project is a large scale site with a serious amount of facilities. Then you have the Lost Gardens of Heligan. Yes, these are tourist traps, but they're also still really quite cool and worth visiting once. Not to mention beaches everywhere, but then they don't need selling. There's a reason many people go camping in Cornwall every year!
How to spend a week camping near Mevagissey
Day One:
Take a sigh of relief as you cross the tamar, get to your campsite and set up your gear. Take a stroll to the local pub, your holiday has begun. That's quite enough for one day.
Day Two:
At 7am be the first person in the sea and spend the day doing whatever you please at the beach. Grab a bite to eat from a local restaurant or fire up your own BBQ, whatever.
Day Three:
That's enough beach for one day, hop in the car and drive one of the popular things to do, like the Eden Project or Heligan Gardens. Enjoy wondering about the futuristic biomes designed by Nicholas Grimshaw or take a fresh garden stroll. If you want to avoid tourist hotspots, consider visiting one of the North Coast beaches that you haven't already heard of, or visit Gorran Haven. Gorran is a stunning spot and great for harbour jumping at high tide.
Day Four:
Walk or drive to Mevagissey and spend a day enjoying the things to do there. Maybe buy a crabbing line and some award winning fish and chips. Better yet, buy a travel fishing rod from Amazon before you go and catch mackerel for the BBQ tonight.
Day Five:
Hop aboard the Mevagissey to Fowey Ferry and cross the bay. You might spot a seal or dolphin if you're lucky. The crossing is picturesque and the bay is normally very calm and still. Wonder the streets of Fowey and buy some expensive fudge or something. It's a very special place and has a very relaxed atmosphere. Up the river in Golant there's a house where one of the old royals is rumoured to have taken his harem; he could have built a private retreat anywhere which says something about the river Fowey. The sail boats add to the feel of the place. If you pass the bakery near the town quay the salted rosemary bread is unreal and you really should buy some of that unless you're still full from your pasty.
Day Six:
That's quite enough exploring for one day. Mong out on the beach for your last day. Perhaps wonder along the coastal path and enjoy one of the walks near Mevagissey to discover a new spot you haven't seen before. If you're at pentewan, you could hire paddle boards and take them out on the water.

What's St Austell Bay like?
St Austell Bay is a sheltered, pristine coastline made up of coves, quaint harbours and whitish gold beaches. Along the coast there are small villages built up by the old industries of fishing, exporting clay and smuggling. Much of the coastline is designated an Area of Outstanding Natural Beauty. All three of the rivers in St Austell are known as 'white river' because the old clay area used to turn all the water white. The sand on carlyon bay, the longest beach in the bay, is made up of the byproduct sand from the clay industry.
The villages of Fowey and Mevagissey are both just outside the bay on opposite ends. These two fishing villages cater to visitors very well and attract those that appreciate their characteristic narrow winding alleys and harbourside pubs. With Fowey being situated in an estuary, it's popular with sailors, whereas Mevagissey has a working harbour. Both have a laid back atmosphere and you can catch a ferry between the two villages.
St Austell itself is a town slightly inland and is home to St Austell Brewery, which has made a name for itself exporting ale in recent years. The pubs along the coastline serve exceptional local ales for this reason.