Top 6 Beaches in the St Austell Bay Area
Along the coast you'll find both expansive sandy beaches and rocky coves. St Austell Bay sits within a sheltered area protected by a long headland, which itself is sheltered from the Atlantic by the English Channel. If it wasn't for the land around the Lizard which blocks off the Atlantic or if the toes of England were raised rather than straight, the surrounding area wouldn't be so sheltered and calm. We also benefit from the gulf stream bringing warmer water from the Gulf of Mexico more than anywhere else in the UK except the Isles of Scilly. On this page you'll find a list of local beaches. If you're looking for the closest large sandy beach head to Pentewan or Carlyon Bay for more privacy. If you prefer smaller coves then head to Gorran Haven. For a more rugged feel, Polstreath is within walking distance of Mevagissey but requires good mobility to reach. For naturists, head to Vault or the very far end of Carlyon Bay. Don't forget to check local tide times, as some beaches may be very small on a high tide.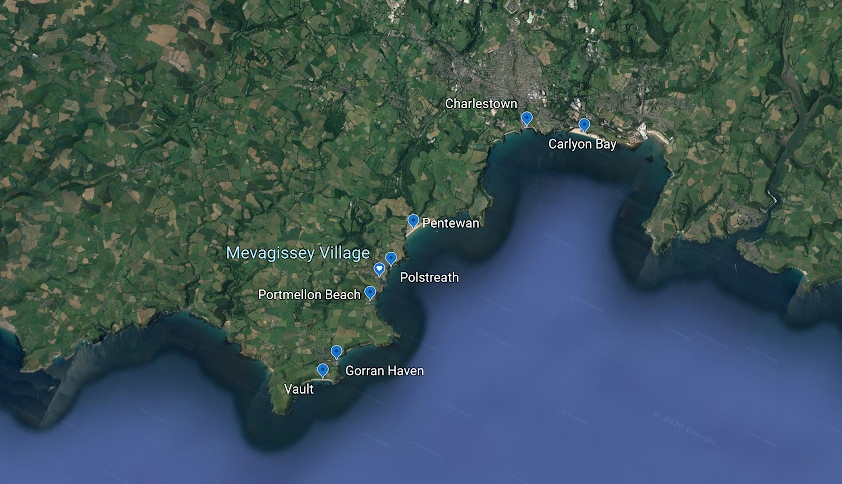 Vault Beach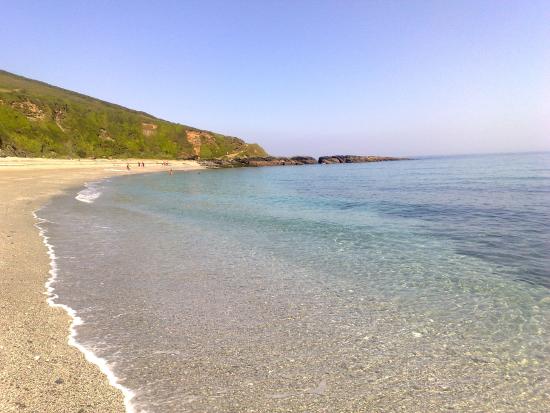 Distance from Mevagissey: 3.9 miles (16 minutes) Parking: 1/5 Vault is a shingle-covered beach that offers high levels of privacy. It's accessible by the coastal path from Gorran Haven and the nearest car park is the National Trust Car Park a half mile away. A real Cornish gem, perfect for escaping the crowds. "It's a great beach" – say all the locals
Charlestown Beaches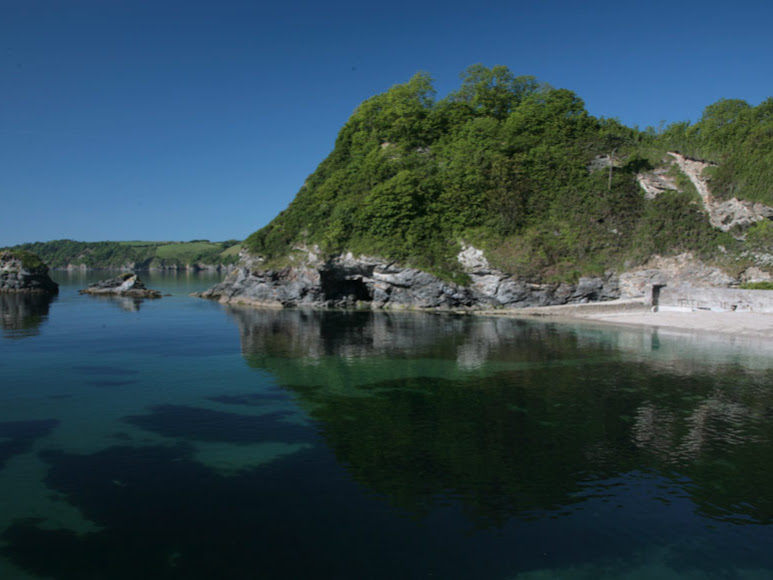 Distance from Mevagissey: 6.5 miles (16 mins) Parking: 3/5 'idyllic harbour town with good restaurants' In Charlestown, the beaches are covered with flint; a remnant of a time when vessels would refill the clay boats with local rock to balance the weight of the boats and drop them off at Charlestown to be filled with clay again. Charlestown has a wide selection of good places to eat, and has wonderful views across the bay towards the headland. If you're super fit maybe you can walk the coastal path to Mevagissey…
Gorran Haven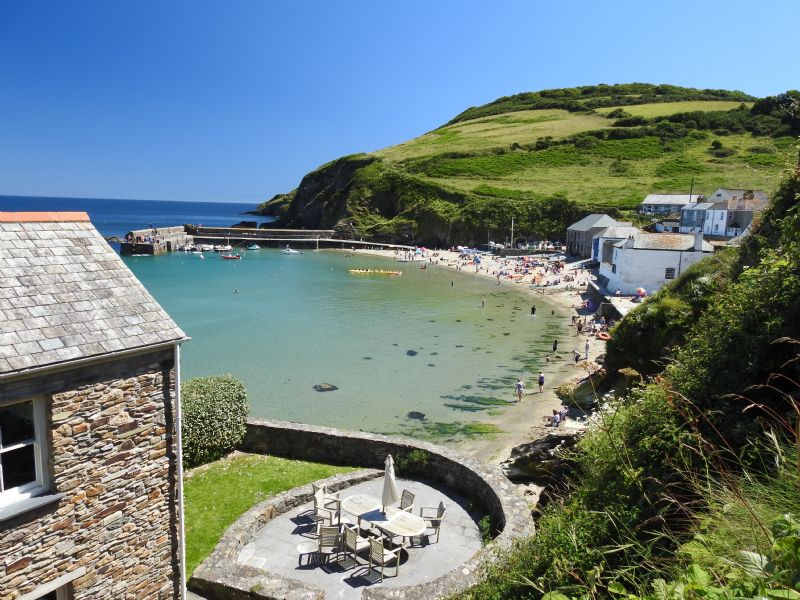 Distance from Mevagissey: 2.8 miles (13 minutes) Parking Score: 4/5 'An utterly glorious beach near Mevagissey with a wonderful coastal walk and shops.' Oh, what a beautiful spot – Gorran Haven is a little village with a small harbour and a sandy beach. Compared to Pentewan, this is slightly further away, has less space, but is glorious all the same. Bear in mind that the beach is very small when the tide is in, so check tide times here before visiting
Pentewan Sands
Distance from Mevagissey: 2.1 miles (6 mins) Parking Score: 4/5 'Spacious sandy beach very near Mevagissey with toilets, watersports hire and a burger-bar. Great for children.' Just a few minutes away by car or a good walk around the coastal path is the beach of Pentewan. This beach is over half a kilometre long, with whitish golden sand. It has toilets and a restaurant on the beach as well as paddleboard hire, because just behind it is Pentewan Sands camp site. You can rent a floating banana and a boat and there's free car parking and cafes in Pentewan village.
Portmellon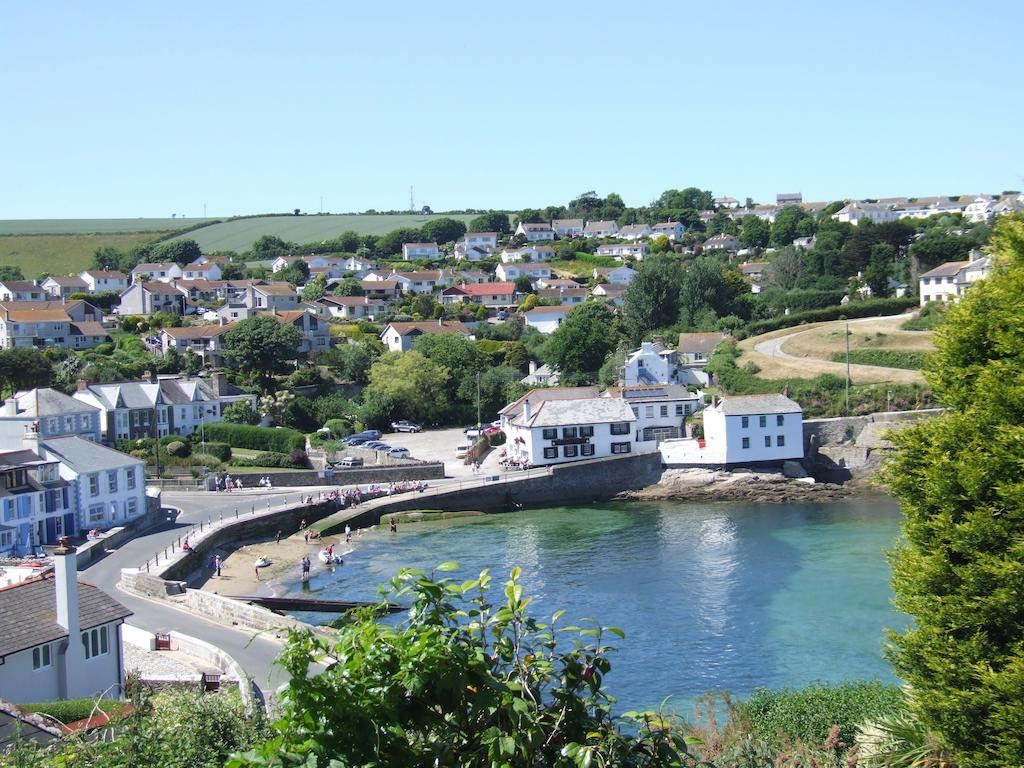 Distance: 0.7 miles (15-minute walk) Parking: Walk, don't drive. Portmellon is a small beach accessible at low tide. This is the beach nearest to Mevagissey and is only a short pleasant walk away – perfect for a shorter outing or for avoiding Cornish summer roads. A very safe beach and a great first-stop after visiting Mevagissey.
Caerhays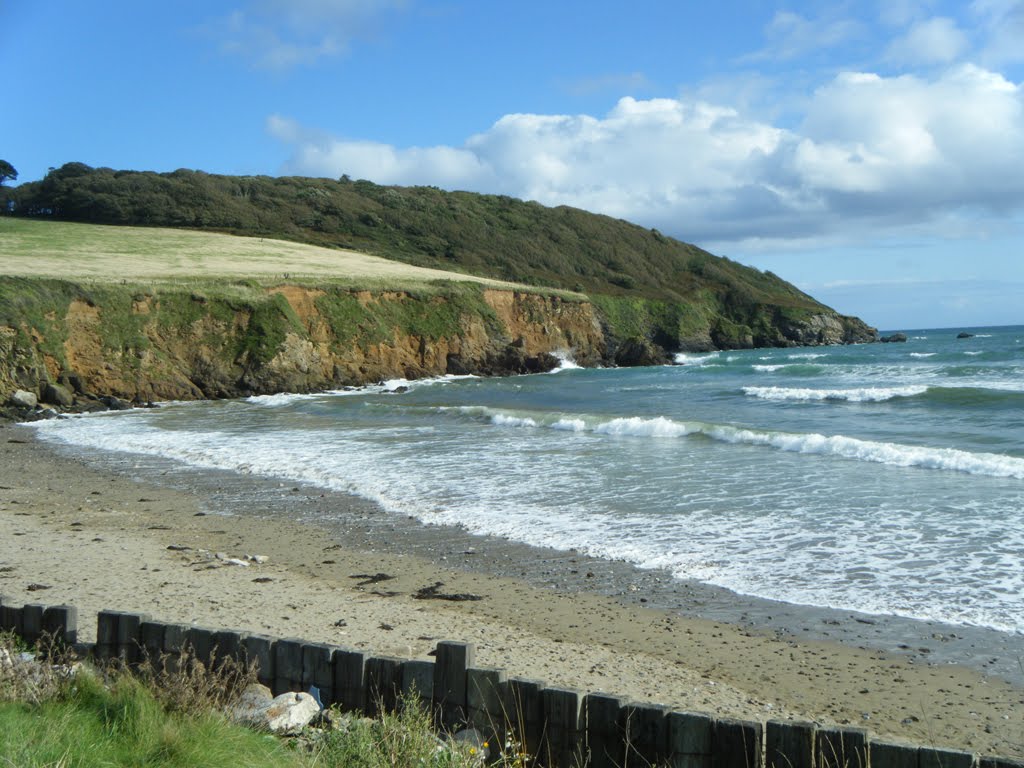 Distance from Mevagissey: 7.2 miles (16 minutes) Parking Score: 4/5 'A quiet and fairly exposed beach set within roling hills on the edge of the Caerhays Estate.'
In summer water temperatures reach around 18 Celsius, and in winter the water can reach an icy 7 Celsius. The traveler in Cornwall enjoys warmer waters than those in the rest of the country by a couple of degrees (which makes a big difference), as the gulf stream brings water to us first, straight from Mexico! Wet suits are helpful in summer for milksops and namby-pambies, and in winter are a necessity unless you're tough as nails. My advice is to get in quickly, preferably by running right in, and think of the word 'refreshing' rather than 'cold'…
Pentewan beach is completely flat from the carpark outside the Seahorse Center and has other facilities, like toilets.
For those of you with furry friends, here is a list of dog friendly beaches: Vault beach, Porthluney, Hemmick, Gorran Haven Beach, Polstreath, Colona Beach, Coombe Haven Beach, Par.
Get your bare buttocks down to Vault Beach or Porthluney cove – both are quiet and offer good privacy. The south coast is an excellent place for naturists, as it's known for its numerous small coves which offer privacy.
Mevagissey is situated on the south coast of Cornwall, which is known for having more sheltered, quiet beaches than the North Coast, and the beaches are less well known for surfing. The fishing villages on the South Coast are more quaint for the most part, and Mevagissey is among the best of them. St Austell Bay has relatively small cliff faces and is really a series of little coves, whereas North Cornwall generally has larger, more expansive and more exposed beaches.